Johnny "Lam" Jones
1976 Olympic Gold Medalist and former New York Jets Wide Receiver
Note on photo: "Master Lu, Thanks for the workout program. I'm looking forward to the next phase of the class in the off season. Johnny Jones #80"
Additional quote from Mr. Jones, "The breathing exercises are great for improving your cardiovascular [system], and the strength and speed exercises are great for building and maintaining strength without losing flexibility. If the athlete will combine Master Lu's training with his individual sport training I believe without a doubt, he will gain that extra edge that increases his chances of winning the battle in any sport. The greatest thing about this training method is that it's not just for the young or athletic, anyone can do the exercises! It's for those who care about their physical health on a long term basis."
About Master Lu
Born in 1936, young Master Lu began his journey in martial arts at the age of eight.  Throughout the 1940s and 1950s, he sought apprenticeships under various renowned masters in China.
In his teenage years, he achieved an advanced level in martial arts forms such as Kung Fu and Judo; even winning a Judo Championship in Taiwan. Yet, through a series of life events (many of which are detailed on Master Lu's Chinese Tiktok*), he was drawn into the world of business. During these years, he built one of the largest insurance businesses in Taiwan, opened the country's first fitness facility, and started an import and export business.
As expected, his significant business endeavors detracted from his practice and health. Eventually, he realized that he had sacrificed his health in the pursuit of business success, so he once again turned his focus to martial arts and Chi - the discipline of harnessing the life force that we each possess as individuals.
Although Master Lu is more recognized in Asia for his skills and teachings, in the brief 15 years of living in the US, he had the opportunity to train a few dozen students. Many of the students were professional athletes who came across Master Lu by chance, however, it became clear that Master Lu's methods can significantly improve an athlete's performance, and many were able to achieve high distinctions in the field of sports following their training with Master Lu.
The following is an abbreviated timeline of Master Lu's life events, teaching history, and testimonials of his teachings.
* This section about Master Lu is a work in progress as more materials are uncovered and more content is transcribed/translated from Master Lu's short videos in Mandarin.  Be sure to check back periodically to learn more.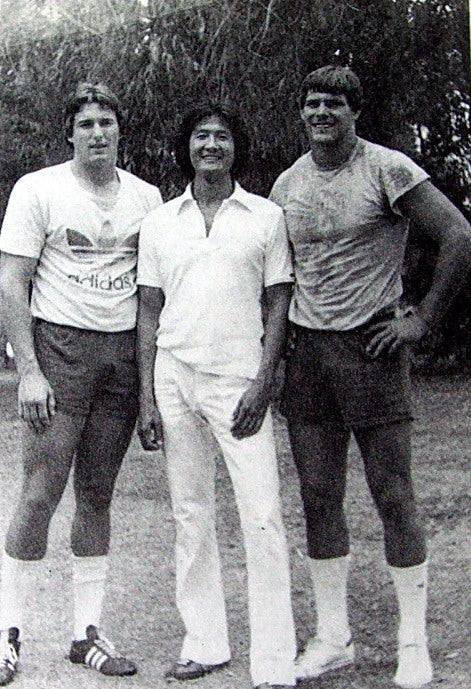 The L.A. Rams and the Super Bowl
In 1979 Master Lu trained a number of players on the Los Angeles Rams football team.
Later that year, the LA Rams made it to the Superbowl for the first time in the team's history. A dramatic turn-around for a team which hasn't made NFL Championships since 1955.
Excerpt from Wikipedia, "In 1979 Brudzinski had his best year to date. Making all 16 starts as the RLB and being named 2nd-team All-pro by the Gannett Wire Service. "Bru" as his teammates called him, amassed 127 tackles, with 7 of those for a loss, plus 5 sacks, he intercepted a pass, forced a fumble, recovered one and broke up 14 passes, either at the line of scrimmage or in coverage. The Rams went through the NFC playoffs beating the Dallas Cowboys and Tampa Bay Buccaneers before losing Super Bowl XIV to the Pittsburgh Steelers."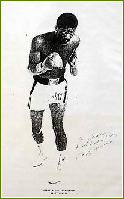 Muhammad Ali's Amatuer Boxing Team
Master Lu was contacted by Muhammad Ali after his CBS interview regarding his work with the L.A. Rams. Subsequently, he was hired to train two boxers on his amateur team. One of them was Marty Monroe, a fighter who was paid $700 per match. After receiving training from Master Lu, Monroe's per-match earnings skyrocketed to over $40,000. The other boxer, Tony Tubbs, was initially an underperforming member of Ali's team. However, after a brief period of training with Master Lu, Tubbs managed to win the Heavyweight Gold Medal at the 1984 Olympic Games.

Bobby Jackson, New York Jets
In 1986, Master Lu worked with Bobby Jackson to help him recover from his career threatening injury. After recovering, Jackson had the opportunity to extend his contract. The message on the photo reads: "...Thanks for everything. The Superbowl and All-Pro are in my future."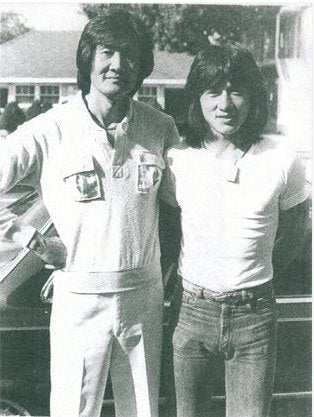 Hollywood
This photo was taken when Jackie Chan first visited the United States, right outside of Master Lu's martial arts studio in LA. The Hong Kong superstar had proposed that Master Lu play his Master in Chan's debut US movie, but this idea didn't come to fruition.
Master Lu never seeked to become an actor, however, shortly after meeting Chan, through unrelated events, Master Lu was offered the second leading role in a Francis Ford Coppola movie. He was casted for his natural acting skills, English speaking ability, and martial arts experience.
Other endorsements of Master Lu's teachings
"I have found that the breathing exercises are profound and intense, not only do I have a sense of exhilaration and rejuvenation, but a heightened sense of energy and mental clarity, as well, especially when I wake up in the morning." - Enoch D., New York City Hospital
"I feel much better about myself since I started with the exercises and I'll continue to use them without hesitation. They're great!" - Bobby Jackson, New York Jets
"The exercises help us move quicker and increase our concentration and memory...I'll definitely continue them." - Bob Brudzinski, Miami Dolphins
"I highly recommend your breathing exercises for people with respiratory ailments." - Gale R., Chief Nurse, Respiratory Department
"I'm a world class athlete and body builder and through the program, I feel stronger physically and mentally. The method is excellent, everyone should try it." - Sha-Ri Pendleton ("Blaze"), American Gladiator